February 7, 2018 |
Steve Smith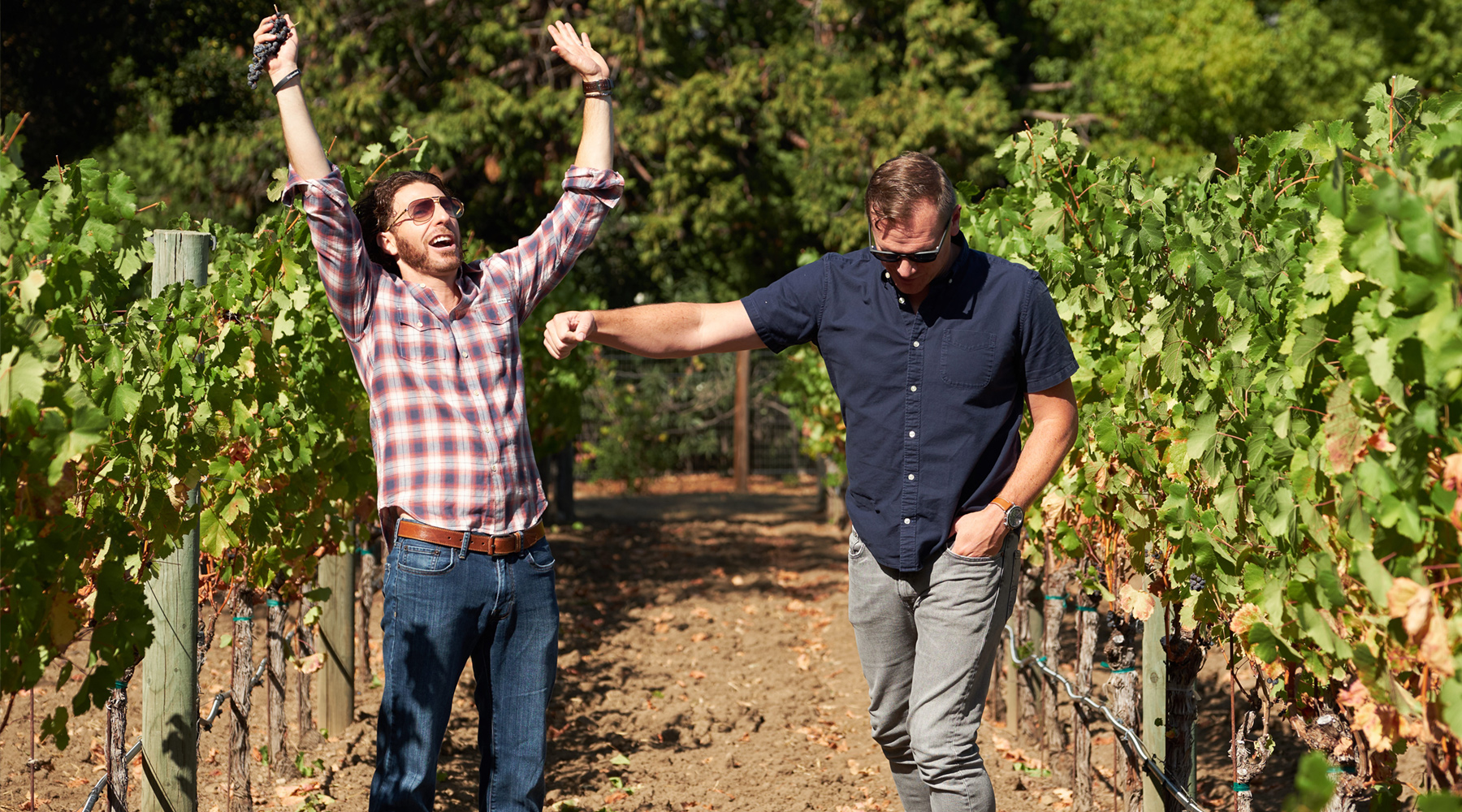 Smith vs. Devereux. This is how we've decided to share our adventures in the world of wine. Admittedly, a liberal use of the word versus, because this is not a competition. This is a friendly face-off, a medium for us to share our journey with you and include you as our wines evolve. Put simply, we don't like to talk about ourselves that much (well, sometimes Dev does) and this is our opportunity to do exactly that. We invite you to become a part of our story and we hope to become a become a part of yours. This collaborative effort will culminate each year in a wine club-only release of a very special Smith vs Devereux wine (more on that later).
What's important to know now? We are two great friends, whose partnership is driven by our shared vision to make great (enter swear word that begins with f here) wine. We are individuals who experience the world through our own eyes, yet complement each other like ice cold rose and a hot day… and a boat… or a beach… anyway. This is where it gets fun, and this is what we are looking to share with you here. Be warned, I think we're about to transition into a 3rd party narrator yet to be named, so don't be confused and hold onto your hats!
Your friends,
Smith and Dev
The Story
The Smith Devereux story all began with a mutual love of music and a seemingly impossible business opportunity that tied music and wine together. Smith and Dev represented opposite parties in the scheme but ultimately had the same goal in this unicorn of an opportunity*. Smith had the background in the music industry. Dev and his good friend John Truchard brought the wine industry expertise and some of the best vineyards and fruit in Napa Valley. It all began backstage at the Greek Theater in Berkeley, CA, quickly developing a life-long friendship with a plan to conquer the world. Well... the wine world. True world domination may actually be outside of our skill set. We turned this opportunity into reality, and on the heels of this success founded Smith Devereux. *yes, we are being coy about details, it's more fun that way.
Alongside partner John Anthony Truchard and winemaker Brett Adams, Smith and Dev are making themselves a part of as many stories as possible with world-class wines that should probably cost a whole lot more than they do.
What's up with the narrator?
If you're going to have a face-off, you kinda need a voice to provide judgement, especially in instances where the object is not to determine a winner, just to provide comic relief or educational insight. Plus Smith and Dev have plenty of ego, but do grow weary only talking about themselves, so they hired me to step in where needed. You'll learn more about who I am and my "resume" later on, for now though, just know I'm here to keep things orderly and help guide this adventure. I'll oversee the battles behind the bottles, if only as a moderator, referee, unfair side taker (bribes are encouraged), or much-needed comic relief. Nothing's off limits, from winemaking competitions to label design and best pairings. Maybe we'll even make them write us a song.
It's true, every bottle tells a story. But heck, the names on the bottle tell one hell of a tale, too. Looking to see our Smith and Dev go head-to-head? Share your wild ideas with us below. Cheers!