December 11, 2018 |
Smith Devereux
It's that time of year! Pass the 'nog and light the tree— we're going all in on our favorite festivities and most memorable holiday traditions.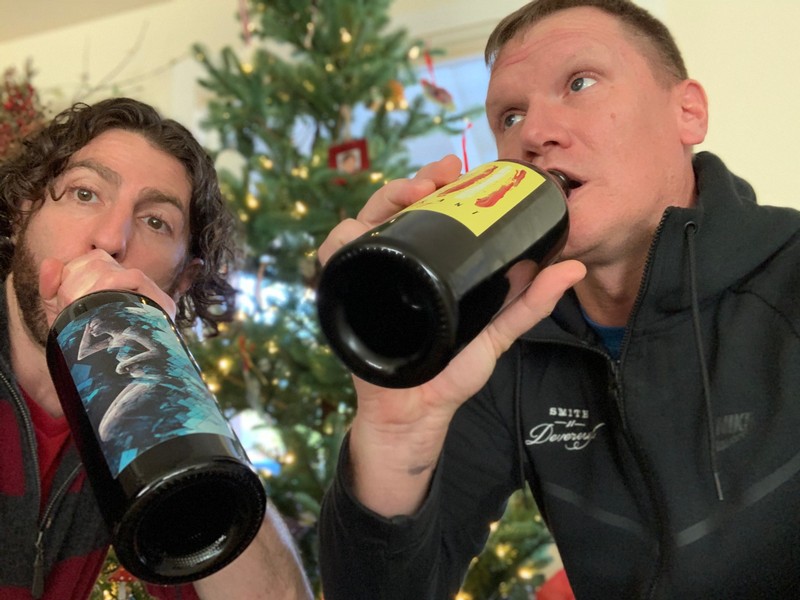 It's that time of year! Pass the 'nog and light the tree— we're going all in on our favorite festivities and most memorable holiday traditions.

There are three essential Smith family holiday traditions once we get back together. But before the traditions begin, the official start to our family celebration is a non-stop barrage of emails and texts amongst the family to get their Christmas lists shared. The inevitable result is a thoughtful list from my mom, a list of my dad's wishes made by my mom to which he has no knowledge of, another thoughtful list from my sister-in-law that covers her and my nephew, then silence from my brother and me.
Once we all gather back in Ohio, we kick things off with a trip to Rudy's Hot Dog. This is not your fancified Chicago dog, this is a masterwork of a chili sauce on top of a steam dog and bun. This is 5-star cafeteria quality. Forget Tony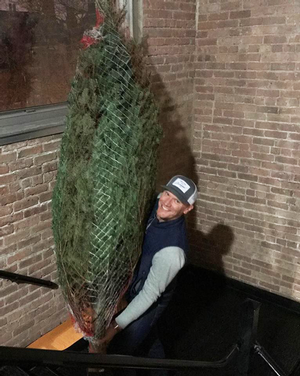 Packo's, as Klinger in M.A.S.H. so often spoke of, Rudy's is the true destination in Toledo. Three chili dogs, fries and a Hawaiian Punch would be my last meal on earth if ever that is a decision I have to make. Too many memories tied to Rudy's to account here.

Christmas Eve, we make the drive up to Chelsea, MI to my brother's house. The evening includes a trip to church, shrimp cocktail with a constant tweaking of the cocktail sauce, my mom's legendary potato soup and, of course, some good wine 'n' whiskey. Charismatic Fool kicks off the night, then we dive into Ibex as well as wines from our favorite producers such as Sanguis, Aonair and Tres Sabores. The night always ends with frantic present wrapping and board games or a puzzle that will take us into the wee hours of the morning. It's amazing we've never seen Santa.

Christmas Day is all about Milo (my nephew who painted Vivrant Thing). Coffee and present opening leads us to late morning naps, then a drive back to Ohio to my Godmother's home where I've spent every Christmas Day since I was born. Nearly 40 of us gather to open more wine, laugh even harder and take in all the past year has been. This crew also comprises the 4th tradition I've somehow forgotten, which is our yearly day of gaming. We split into teams and battle in some sort of competition (bowling, football, indoor Olympics, etc). Think of this as the Festivus Feats of Strength with more injuries as we all forget how old we really are.

Family is everything to Ian and me. I know he values his traditions as much as I do and also enjoys their evolution. I'm looking forward to seeing what new traditions enter my life as I share it with my girlfriend... oh I mean fiancée. Yeah, I'm bragging because she's worth bragging about. :)

The traditions around the Devereux house have changed a great deal in the past few years with the birth of my first son Benjamin and second son Sonny. In the past, we would all get gussied up on Christmas Eve and head to San Francisco to a restaurant my mom (Lynne Devereux, love ya Ma!) chose. She is a chef and has owned restaurants in the past and always knew the hottest, hippest place to go. We'd enjoy the finest wines with dinner and walk around Union Square checking out the Holiday windows and the massive tree in the center of it all.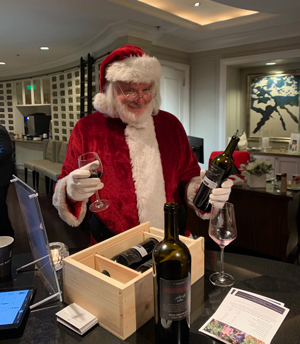 These days our tradition has shifted to Christmas morning, and that's all about this fantastic electric train and whatever wonderful gift Santa puts in the center. Could be a 6-foot stuffed giraffe, or a Lego set that will take us the rest of the Holiday week to build. Whatever it is, it has to fit within the train tracks. Benjamin loves it (he's 4) and I'm sure Sonny (6 months) will love it soon too. This is followed by a few more gifts, although we don't do a lot of gifting— it's more about time together, lots of Charismatic Fool Rosé and endless eating. Dinner that night will be paired with the Smith Devereux wine lineup along with wines made by others we know and love like John Anthony, Fantesca, School House and Peju.
The following day, we'll pack up for Tahoe and head up to the snow for a week of wine, food, games, snowmen, snowboarding, skiing, ice skating and family relaxation. My parents, brother and sister all join in the on the festivities, and sometimes friends join for a day or two, sleeping in spare rooms or on blowup beds near the fire.
Happy Holidays from our families to yours! We'd love to hear all about your family traditions over a glass of wine or a lego building competition— just let us know when and where. Cheers!