January 9, 2019 |
Smith Devereux
Loud, exciting, (often stressful) — bottling day is when the winemaking stops and the waiting (pre-drinking phase, as we often call it) begins. Some wines will reveal themselves in a matter of weeks, while some will take a much, much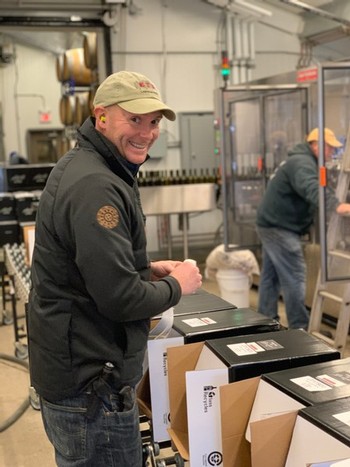 longer time to show you who they really are. We make most of our wines with the hope that you'll be able to enjoy them fully when you buy them, or save if you choose and let the subtleties and layers come out. That's our style and we're sticking with it! I digress.
We just bottled up some tasty new vintages and first release wines, and present them to you– our favorite part. So please go shopping, go sipping, and then get in touch with us directly (Dev - ian@smithdevereux.com | Smith - steve@smithdevereux.com) and tell us what you think!
While we bottle a few times each the year, this last bottling project was a special one, and winemaker Brett Adams says it all with that big, cheesy grin. This December, we bottled the Smith vs. Devereux: Project 1, our wine club-only release, "Fly From Heaven," a layered and rich 2014 Santa Barbara Pinot Noir, and the easy-drinkin', easy pairin' 2017 "3" Red Blend.
Our Smith vs. Devereux Project is one we've been waiting to share with you for a long time. To make this project, we each snagged a barrel of Merlot from our IBEX vineyard at Davidson Ranch (featured in Robb Report) and worked with Brett to release a VERY limited bottling of two handcrafted wines with the same Merlot DNA. Available to club members, these wines come with labels and stories that are very meaningful to us, and inside a Smith Devereux branded wood box — These will sell out, and they're awesome. Seriously, you'll be pumped when you get yours.
Just Released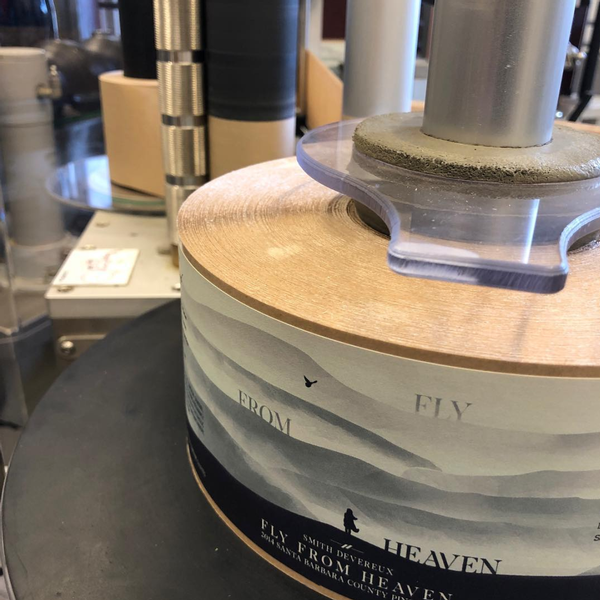 Our newest release is a 100-case production of rich and complex Santa Barbara Pinot Noir with a Napa Valley twist. Fly From Heaven is a collaboration with Glen Phillips of Toad the Wet Sprocket, and Making Fly From Heaven goes back to Dev's roots of skipping class at UCSB combined with Smith and Dev's shared love of Santa Barbara's own Toad the Wet Sprocket. Beyond the hauntingly mysterious label, this wine's balanced acidity and earthy flavors play a supporting role to layers of dark fruit, boysenberry, pie crust, and cocoa. This is a genuine representation of a world-class Santa Barbara Pinot Noir, just with a Smith Devereux twist. Plus, 10% of all proceeds from this wine go to supporting RAINN, the nation's largest anti-sexual violence organization.
New year - New Vintage!
A daily drinker and the most playful of our wines (even really good slightly chilled for those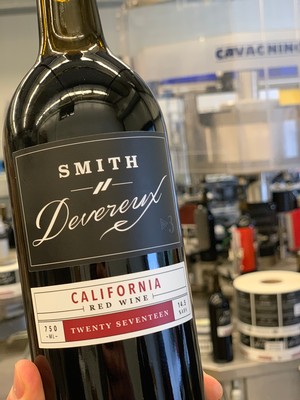 that like tart strawberries and hot BBQ), the 2017 vintage of our California Red Blend comes with a refreshed, sleek label, but brings the same crowd-pleasing blend of full-bodied, luscious Syrah with the smoky spice of Zinfandel. AND this time we spiced things up with a splash of Cab Franc as well. It's an everyday drinking, food on the barbecue, music turned up kind of wine. Supple and relaxed, yet bold and rich, the flavors of this wine are as complex as your New Year's resolutions.
Amidst the glass, corks, conveyor belts, labels, and boxes, the end result is more exciting than Christmas morning. The final product is months and years of hard work in the making, and we love nothing more than sharing it with you. Grab a bottle... heck grab a case! It's a new year and every day is a reason to celebrate.