WHO WE ARE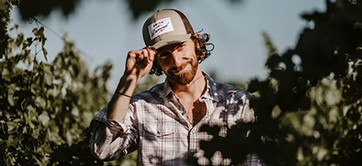 Ian Devereux White (Founder + Vintner)

As the Vintner, Ian is responsible for everything from vine to bottle at Smith Devereux Napa Valley. He began his career in the wine industry as the Wine Country Director for 7x7 Magazine, where he launched and authored 7x7's dedicated Wine Country page and developed multi-platform marketing campaigns for over 200 wineries. After traveling the world learning and writing about wine and winemaking, he co-founded Smith Devereux (first vintage 2012). In 2014 Ian accepted his current role of Wine Director for Modern Luxury's San Francisco Magazine where he works with writers to support wine countries around the globe, sponsors and hosts celebrated events, including the Humanitarian Awards, the Napa Valley Film Festival, and SF Magazine Best of Wine Country. He is active in a number of local charities, makes philanthropy and giving a part of everything he does, and plays rhythm and lead guitar for High Noon Band.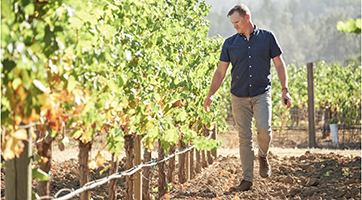 Steve Smith (Founder)

Steve has 19 years of experience in the music business, focusing on A&R, artist management and strategic partnerships. He has worked with likes of John Mayer, Train, Five for Fighting, Mat Kearney, Andrew McMahon, and The Fray. Steve's pivotal role in the successful launch of Verse & Chorus Napa Valley Red Wine fortified his knowledge and love of wine, and allowed him to bring his expertise in strategic brand development, relationship management, and partnership formation to the wine industry. After this national success, he joined Smith Devereux as a founding partner.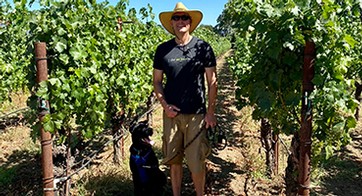 Brett Adams (Winemaker)

Winemaker Brett Adams began working in the wine Industry at Trinchero in 2001 after finishing his BS inFermentation Science from UC Davis, After that he went on to study for a Master's of Science at Washington State University with an emphasis in Enology. Upon leaving WSU, Brett came back to California to work as Assistant Winemaker at Roche winery in Sonoma, followed by a harvest at Sequoia Grove Winery in Rutherford and then Honig Vineyard & Winery as Associate Winemaker. He now makes all of the wines for Smith Devereux.


John Anthony Truchard (Founder / Board Member)
John (left) was raised in a grape growing family. His parents, Tony and JoAnn Truchard, planted their first twenty acres of grapes in Los Carneros in 1974 when John was two years old. Over the next sixteen years, John experienced all stages of vineyard development, including acquisition, land preparation, planting, management, and sale of fruit and finished wines. John finished his studies at the University of California, Davis and started Vinewerkes, a small vineyard management business, and for several years focused on caring for other people's vineyards. In 1997, he planted his own vineyards, and he and his wife, Michele, started the John Anthony Vineyards wine brand in 2003, the first of ten sell-out seasons. Vinewerkes now manages more than 26 vineyards in Napa Valley, and John Anthony Vineyards and John's other brands, Jam and Butter, are now distributed in over 35 states.