-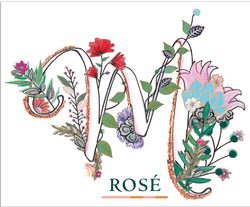 An intentionally made Rosé of Pinot Noir from the Bacigalupi Vineyard in Russian River Valley expressing a beautiful sense of place and the joy of a life in wine! A Rosé that is an elevated expression of what a pink wine can be with the firm belief in care, craftsmanship and fun!
"This stylish rosé has a lot going on inside the glass."
"This is a delight!" they said. "Perfect… that's what we were going for." The esters dancing off this wine have been the envy of fellow vintners and cellar hands alike since we first put it down to barrel back in late September, wafting them here and there as we went. While its Sonoma roots are full of aromatic freshness – crushed strawberry, sea salt, old growth redwood, manzanita bramble – it's as though the balmy tropics came and gave a sultry summer kiss to these Pinot Noir grapes sunbathing on their bank of the Russian River: fresh-cut quince, peach & summer melon. An acid pique that is as elevated as it is enticing, it's no wonder "Bacigalupi" means 'kiss of the wolf." Something's sure been kissing these grapes."
- Winemaker Vincent Traverso
"A rich and elegant style that is destined to capture the attention of wine fans looking for a pink version of a full-bodied Pinot Noir to start off the evening or to pair with fine cheeses, gourmet lunches, and dinners!" - Bacigalupi Vineyards
This is the second vintage of Sommelier turned Vintner, Meghan Vergara, teaming up with Rosé expert winemaker, Vincent Traverso. This is a DREAM COME TRUE wine for wine industry pro's Meghan & Vin to produce a thoughtfully made wine from a storied vineyard site in Sonoma!