2022 Vacationer CA Rosé
Label Adventure!
Vacationer is an easy-drinking, everyday wine. This crisp and refreshing rosé pairs perfectly with good friends; whether on your porch, rooftop party, happy hour, or at the beach.
Crisp, refreshing and dry (not sweet), this easily-paired rosé is full of fruit, life and fun! Expect gentle hints of raspberry, peach and stone fruits.

NOTE: We have no idea which of the 3 fun labels you'll receive. But worry not, the wine is exactly the same in every bottle. 2020 Sunset International Wine | GOLD 91 pts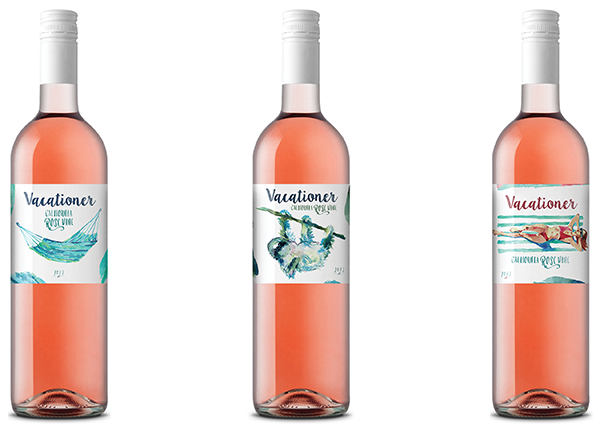 Product Reviews
Tallee
(Oct 27, 2020 at 11:29 PM)
Drink this beautiful salmon colored Rosè from a narrow glass, you get notes of strawberry on the nose. Pour Constantine into a mid range glass and you get cotton candy and mixed red berry on the nose. SoB (straight out of the bottle) I picked up rose, watermelon and fresh cut grass without being sweet on the tongue. This is a delightful festive uplifting Rosé with in the shade of Salmon that makes this Alaska gal very happy. You can't help but chill like Constantine (the sloth in the reusable label) when you have a glass of his namesake in your midst! Wonderful off-dry Rosé!
Marlene Lee
(Dec 1, 2020 at 3:24 PM)
This is a delightful wine that can be enjoyed anytime